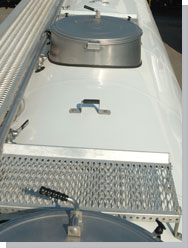 LIQUID FOODSTUFF – a particular responsibility!
Transporting liquid foodstuff requires a high degree of reliability of the company and its employees. Our up-to-date multi-chamber tank trucks have a high standard of equipment in order to safely and smoothly transport liquid goods.
We have provided our vehicles with different equipment to be able to respond flexibly to our customers' demands.
The range of our services includes unloading by electrical pump or pressurised tank discharge and conveying tubes, Thermometer for each chamber, insulated discharges and dome cases, CIP facilities, sterile filters and the transport of alcohols according to ADR standards.