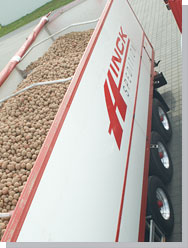 DRY BULK AND SILO GOODS TRANSPORT
A fitting solution for each requirement
With our large truck fleet, we can offer a broad spectrum of transport solutions to our customers. No matter if the goods have to be handled with particular care or weatherproof transport is required, whether dust-free discharge is requested, large volumes are needed or different sorts of bulk goods are to be transported in one shipment - we provide a suitable vehicle.
The requirements in the field of silo goods start at standard transports of grain and animal feeds and end with special transport requirements for highly sensitive granules and industrial products. Our services include different unloading pressures and air flow rates, cooled and filtered conveying air as well as up to 30 m long conveying tubes and cooled compressors.
For loose dry bulk and silo goods push floor , single and multiple chamber silo,
tipping trough, and insulated belt floor trailers are at your disposal. Standard equipment items include grain funnels , lashing eyes und dust bags.